The charming Greek capital needs no introduction! With its wonderful historical monuments, hidden and known gems, international as well as local proximity, and vibrant lifestyle, Athens has succeeded to become a destination for citizens of the world including tourists and investors, regardless of their age group.
History, Culture, Leisure & Business
Between the famous Acropolis and its enchanting ancient surroundings, the city's cultural center with its striking urban style and amazing views, and Athens' biodiversity presented in its alleys, on its hills, and by its sea, there is so much to discover and explore. We cannot forget to remind you about the tasty authentic Mediterranean food and the well-known markets, with limitless options for you to socialize and shop for what you desire at any time.
Athens also acts as a European business hub, thanks to its closeness to global vital centers, easy access to its neighboring cities, its proper infrastructure, and its active international airport with more than approximately 93,000 passengers landing daily, making it a regular meeting point for businessmen from around the world. The capital also hosts many renown companies such as Google, Microsoft, KPMG, PwC, and Amazon, headquarters of rising startups, and business centers, where it presents numerous opportunities for work, complemented with the right accommodation at the right strategic locations!
Whether you are a tourist visiting Greece to explore its mesmerizing islands, an entrepreneur aspiring to take your partnerships to the next level, an employee growing on your career path in Europe, a human who needs an unwinding destination, an investor on the lookout for the right opportunity to capture, or if you work remotely from the comfort of home, Athens is your answer!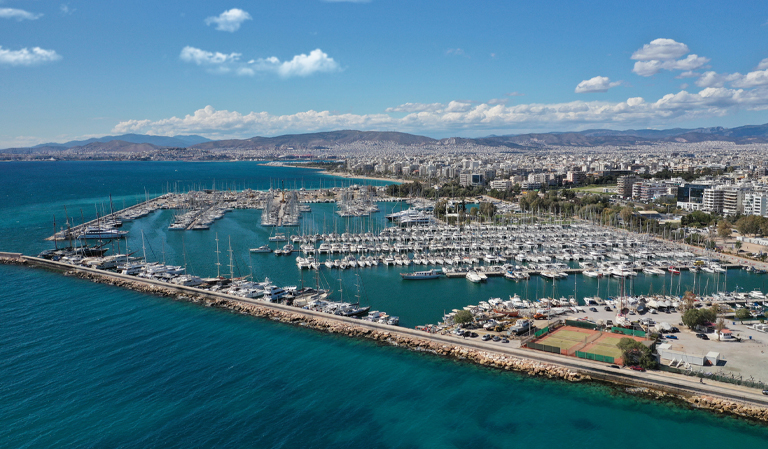 The Land of Profitable Investments
Let's get straight to the main point: the benefits from investing in Greece in general and in Athens in particular. The country has been relentlessly encouraging young adults and retiring investors alike, to venture in properties and seize the many opportunities laid for them across Greek landmarks.
Alongside the Golden Visa program, the promising business opportunities, strategic location, urban lifestyle, and the variety of developments options between the Athens Riviera and the center of the city, make Athens the ultimate Greek destination for investors and visionaries.
Nowadays, the euro currency exchange rate, and the limited time chance to benefit from the low minimum of investment to obtain the Golden Visa (250,000€ going up to 500,000€ starting the beginning of 2023) makes the choice of potential financiers very easy.
If you are waiting for the right moment and the right place to secure your future with a profitable investment, and if you would like to relocate alone or with your family to a multidimensional hub in Europe, where you can unwind, connect to places and people, work, study, and just live… Athens is your concrete chance! Visit: ESTIADEVELOPMENTS.COM and check our developments scattered between the city of Athens.