The newest addition to the family, The Edge is a property that cannot be missed. Located in Kallithea, this residential development is kilometers away from the capital Athens and only 33 km away from Athens' airport. This proximity makes Kallithea the ultimate living destination for easy accessibility to business centers, entertainment hotspots, and most importantly some of Athens' most well-known sites. The Edge is the key to the high-end urban lifestyle mixed in with some city flair.
The elegant interior of all the 19-110 SQM apartments is crafted to be as functional as possible in every way. Spreading across seven floors, the lavish accommodations range from one to three bedrooms each. This residential property gives you the opportunity to elevate your lifestyle. From enjoying a nice BBQ on the roof garden sitting area, to treating yourself to a nice relaxing afternoon in the outdoor jacuzzi under the bright and glistening Athenian sun, The Edge offers some of the most lifechanging characteristics. With features that include natural gas heating, spacious balconies, outdoor dining area as well as high luminosity, The Edge is a vital element of your new high-end lifestyle.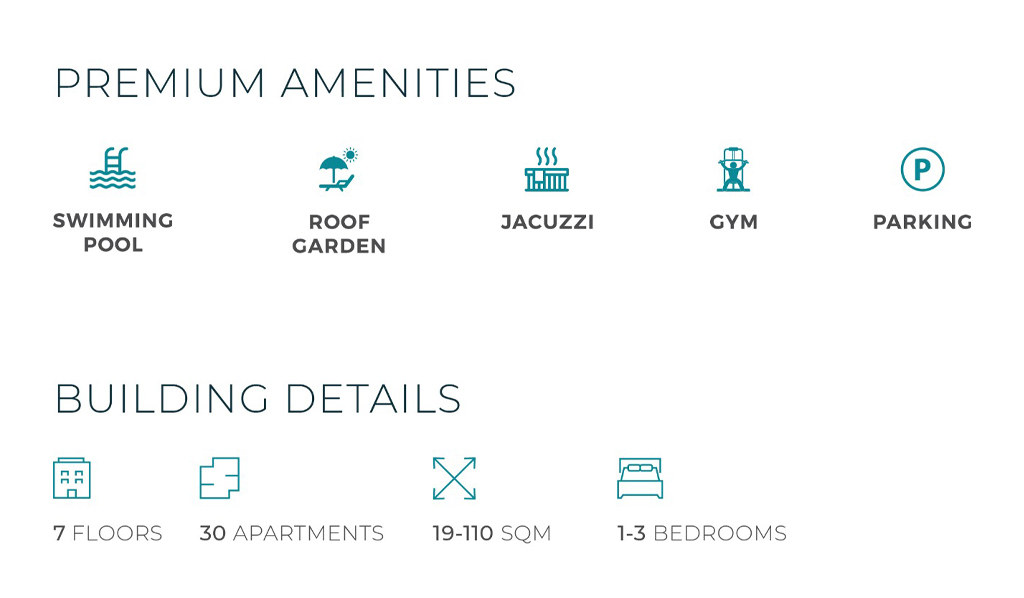 The Region of Kallithea is known for its marvelous sea views, pebble beaches and its recognized universities. It is home to Stavros Niarchos Park, one of the most visited and astounding national parks. Lined with a variety of aromatic flowers, this scented wonderland is the perfect place for a romantic walk or also a place for kids to run around. As Kallithea borders the center of Athens, it is considered the best spot to begin your journey back to ancient Athens. With a number of museums and historical sites, Kallithea allows you to discover the historical dense past Greece offers. To top it all off, citizens of Kallithea are known for their hospitality and sense of community which is found between the tenants of The Edge.
With amenities that include a shared gym, swimming pool, roof garden as well as parking areas, life at the Edge allows you to meet some incredible and relatable people. These amenities are established for everyone which ease the task of making acquaintances in the beautiful Kallithea.
Estia Developments is a prime real estate agency that strives to curate a sense of community in each residential project. Your new apartment at the Edge is an invitation to immerse yourself in an environment that embraces urban living while capturing the soul of the city. It is also your first step toward experiencing the lush, vivid, and entertaining Greek lifestyle. Don't miss out on the chance of treating yourself and indulging in a space that holds urban life along with the true beat of the city!